Fresh from an inspirational weekend at the Bioneers 2012 Conference in San Francisco, our partner and friend, Cherri Foytlin, a mother of six and wife of an Gulf Coast oilfield worker, chained herself to the gate of a Keystone XL pipeyard earlier today in Winnsboro, Texas.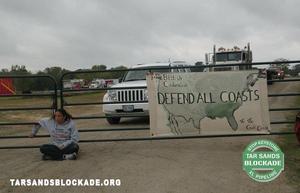 Effectively blocking pipe from being shipped to construction sites along the controversial pipeline's route, Foytlin's action coincides with the Defend Our Coast activities in British Columbia, where more than 60 Canadian communities are protesting a proposed tar sands pipeline through their region.
Cherri's actions mark the 32nd arrest since Tar Sands Blockade's actions began over 2-months ago.  Tar Sands Blockade is a coalition of Texas and Oklahoma landowners and climate justice organizers using peaceful and sustained civil disobedience to stop the construction of TransCanada's Keystone XL tar sands pipeline.
Refusing to accept the Gulf Coast's designation as the Nation's Energy Sacrifice Zone, Foytlin, along with many Gulf Coast residents and indigenous people are dismayed by the lack of national attention being shown toward the damage TransCanada's Keystone XL Pipeline will heap upon Gulf Coast communities like Houston and Port Arthur, TX, where Keystone XL will terminate.
Prior to being arrested Cherri suggested, "By taking action, it is our hope that environmental justice communities across the Gulf will be brought into the national spotlight in conjunction with this highly publicized event.  Who knows what this action will yield, but I do know that this is our time to make a righteous commitment to each other and to our regional movement for justice for our historically overburdened environmental justice communities, for the people and ecosystems that continue to suffer the effects of the BP disaster, for the health of our communities, and for the people and ecosystems of our Gulf Coast."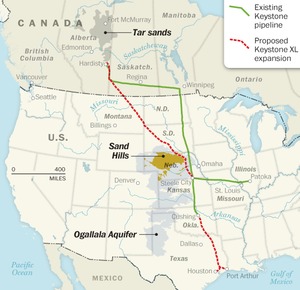 "From the Pacific Coast to the Gulf Coast, Tar Sands Blockade acts in solidarity with all communities and indigenous people rising up to defend their homes from toxic tar sands pipelines. The refinery communities of the Gulf Coast have historically been and continue to be treated as collateral damage by industry and now landowners from Canada to Texas are learning that reality, too," stated Ramsey Sprague, a Tar Sands Blockade spokesperson born in Houma, Louisiana.
"From start to finish, tar sands development only further endangers communities already at far greater risk for death and disease from toxic environmental exposure to man-made chemical pollutants than communities further away from the petroleum refineries and the unconscionable mining operations that define their origins."
Last spring, Cherri walked 1,243 miles from New Orleans to Washington D.C. as a call for action to stop the BP Drilling Disaster.  She has been a constant voice speaking out for the health and ecosystems of Gulf Coast communities.
Cherri is one of the many unsung heroes we're profiling in our documentary film STORM SURGE.  She is the embodiment of selfless citizen leadership in action.  She's an ordinary person taking extraordinary measures to raise awareness of what our nation's collective addiction to fossil fuel is having on our environment, communities and economy.
Please pledge your support of our work profiling people like Cherri and other environmental heroes and heroines.
Sincerely,
Stacy C. Noland
Writer | Producer
p.s., be sure to retweet or repost this email via your favorite social media channel to help spread the word.